FKEE UMP Lecturers Share Expertise in LEGO MINDSTORMS® Programming and Development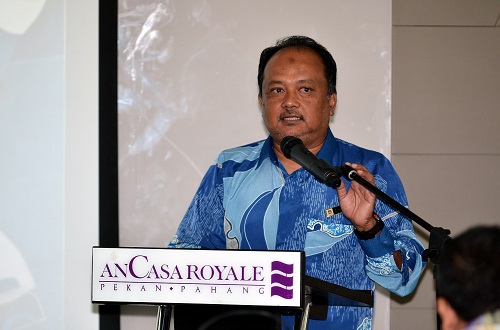 Pekan, 23rd February – The Faculty of Electrical and Electronic Engineering or Fakulti Kejuruteraan Elektrik dan Elektronik (FKEE) Universiti Malaysia Pahang (UMP) recently organized a Training of Trainers (TOT) workshop at Ancasa Royale Pekan in collaboration with the District of Pekan Education Office/ Pejabat Pendidikan Daerah (PPD) to enhance the skills of teachers from Robotic Clubs of Schools in the District of Pekan in the form of LEGO® MINDSTORMS® application.
This two-day workshop was attended by 22 teachers from 12 primary and secondary schools within the vicinity of the district of Pekan and facilitated by a group of eight FKEE lecturers. The event was graced by the Head of Human Resource Development Unit of PPD Pekan, Mr Kamaludin Abdul Latiff.
In his speech, Mr Kamaludin expressed his appreciation to the dedicated UMP lecturers who had helped the PPD by sharing their expertise in in-depth robotic set techniques. The workshop also gave the schools the opportunity to make preparations for a robotic competition which was nearing.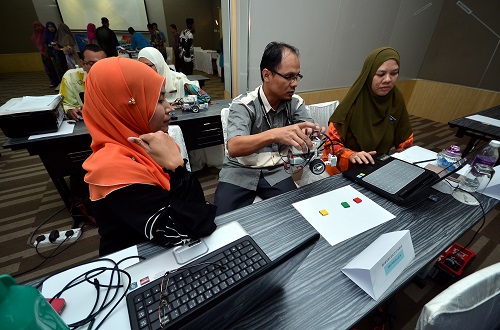 Mr Kamaludin was also impressed with the achievement of Sekolah Kebangsaan Serambi, representing the District of Pekan, which had managed to win the 8th position out of the total 68 participating schools in the Space Challenge Robotic Competition held in Putrajaya on 21st February 2017.
Meanwhile, according to the program director, Associate Professor Dr. Hamzah Ahmad, the ToT workshop also gave exposure to the teachers who were Robotic Club coordinators on basic techniques of LEGO® MINDSTORMS® robotic programming such as Line Following, Color Detection, and Move & Pick. He added that, "LEGO® MINDSTORMS® Set is a robotic kit which has the programming and hardware elements. This Robotic Kit will be designed for users to build and programme numerous robotic inventions or automations according to one's own creativity." Other scientific and engineering elements can be applied by students. The Robotic Kit would also be showcased at the local National Robotic Competition (NRC) and the international World Robotic Competition (WRC)," he said.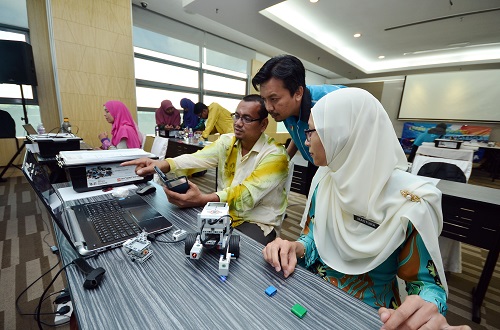 In this workshop, participants would be taught how to use LEGO® programming and building more efficiently. This workshop also received support from the Knowledge Transfer Program (KTP) which would ensure sustainability of knowledge in the fields of science and mathematics.
With this sharing of knowledge, it is hoped that all parties could form a concerted effort towards nurturing students' interests in Science, Technology, Engineering and Mathematics (STEM). He also hoped that with the exposure and training provided, the teachers could help students to apply the knowledge and skills at their respective schools.
Prepared by Nor Salwana Mohammad Idris and edited by the Corporate Communications Division.